BCOR Vendors
Who should I visit at the Rally?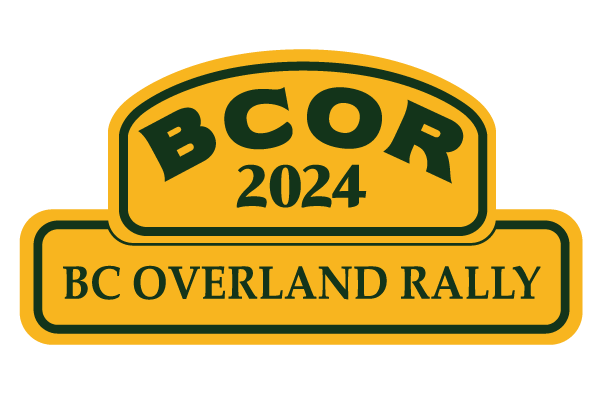 2024 BCOR Vendors
This is a list of vendors that attended the 2023 BCOR. An updated 2024 vendors list will be updated soon
ADVENTURE SMART BC
AdventureSmart is a national program dedicated to encouraging Canadians and visitors to Canada to "Get informed and go outdoors".
ALU CAB
Explore further with vehicle-based adventure gear that takes you the extra mile. Whether you are looking to start with a canopy and rooftop tent setup or want to find the perfect camper, we're here to help you find your ultimate overland solution. Look for us at the Cap-it booth.
ARB 4X4 ACCESSORIES
ARB's product range contains a host of different accessories, from vehicle specific applications to a range of accessories which are suitable no matter what vehicle you own. Today, ARB is Australia's largest manufacturer and distributor of 4×4 accessories. Look for us in the Cap It booth.
AX FILM
Next generation colour-changing wraps that are self-healing to protect your truck and your finish from pinstriping and trail damage .
ARMORLITE TECHNOLOGIES INC
Building upon our past experiences within the non-destructive testing market, we have designed a revolutionary group of products. The initial product was used to create a mobile lab (darkroom) with a composite exoskeleton design known as EXOBODYTM. These advancements have enabled us to create products that offer extreme durability, high insulative properties while maintaining a lighter weight than any competing products. Our units have found applications in many different industries ranging from environmental testing to emergency response units.
AT OVERLAND EQUIPMENT
AT Overland is one of the few companies in North America offering a comprehensive Overland fitment center with expert consultation on all things Overland. We outfit and modify vehicles, and provide truck toppers, campers, storage solutions, roof tents, heating, cooling, refrigeration and cooking accessories that were not available to the fledgling Overland community in North America when we started 20 years ago.
BACKWOODS ADVENTURE MODS
The Backwoods Adventure Mods family is an American made overland accessory manufacturer based out of Springdale, Arkansas. We design and manufacture our own bumpers, rear swingouts, ladders, roof racks, storage boxes, and more for the van and midsized 4×4 market. At Backwoods, we use the industry's latest technology, robotics, tooling, and other equipment to ensure a consistent and efficient product every time. Find us at the Cap-It booth.
BACKROAD MAPBOOKS
Backroad Mapbooks maps are Canada's most trusted resource for off-roaders and ATVers. Include extensive logging, industry and bush roads, atv/snowmobile trails & much more!
BEACON OFFROAD & SUPPLY
The Beacon brand celebrates a lifestyle centred around outdoor adventure.
Beacon's mission is to inspire, encourage, educate, and serve the overlander community. Whether you're just starting out or are a seasoned adventurer, whether you need gear, or advice, head to Beacon. We're here to help you embrace the adventure.
BODY ARMOR 4X4
Body Armor 4×4 started as a passion from a weekend Jeep enthusiast. He realized it was better to build his own bumpers that looked and fit just right and performed beyond comparison. When others began to see what was built, he realized there was a huge void in what people wanted for their Jeeps versus what was available in the market, and a business was born. Find us at the Cap-It booth.
BRIGADE OVERLAND
Exclusive Canadian Distributor for Darche Outdoor Gear. Canada's one stop shop for Overlanding Equipment.
CAP-IT TRUCK ACCESSORIES
Wherever the road takes you, Cap-it is your one-stop shop for truck accessories and adventure gear. If you aren't ready to make a commitment, we also offer rentals and financing options; whatever it takes so you go home happy.
CBI OFFROAD FAB
At CBI Offroad our line of off-road body armor and protection match our motto: "Trail Proven – Adventure Ready!"
Whatever type of adventure you pursue our off-road body armor will get you there with the style, functionality, and protection you need. CBI Offroad is a company that was founded on principles of quality craftsmanship and impeccable design for off-road vehicles. Find us at the Cap-It booth.
CLAYMORE (BIG TENT OUTDOOR EQUIPMENT LTD)
The Ultimate Solution for Outdoor Lighting. Founded off of the idea to create cutting edge lighting solutions, Claymore's brand philosophy continues to revolve around just that. This is why CLAYMORE products are compact and lightweight, yet powerful and functional. Through modern technology and functionality, Claymore has revolutionized the way we look at outdoor lights.
DEEP CYCLE SYSTEMS USA
Deep Cycle Systems (DCS) is a Lithium Battery Manufacturer in Queensland, Australia that designs, develops and manufactures premium Lithium Phosphate (LFP) energy storage solutions for a wide variety of applications.
DOG HOUSE TRAILERS
Rooftop tents for cars and trucks from Dog House Tents will help you enjoy the outdoors in comfort and style. You can plan your next adventure with confidence with an elevated tent that rests on a frame atop your vehicle. Haul gear, cook, and wash up with our overland trailer, while you pitch your tent aboveground for a restful sleep.
EEZI-AWN TENTS
Eezi-Awn is one of the largest manufacturers of RECVEE (Recreational Vehicle) Equipment which includes our rooftop tents, camping & vehicle awnings, K9 roof racks and roof rack accessories. Look for us in the Rovalution Booth
EXPEDITION ESSENTIALS
We are a veteran and family owned company, we are adventurers at heart and have a passion for exploration. As such, All products from Expedition Essentials are "Built From Adventure": Created from necessity, from time spent exploring on the trail and in the back-country. Find us at the Cap-It booth.
EXPLORATION OVERLAND
We are an affordable overland camper company based out of Red Deer Alberta. we use only high quality materials for maximum longevity of our trailers.
FOUR WHEEL DRIVE ASSOCIATION OF BC
The Four Wheel Drive Association of British Columbia is a registered non-profit society that advocates for Public Access to Public Land.
FOUR WHEEL CAMPERS CANADA/MIL (MORRISSEY INDUSTRIES LTD.)
Four Wheel Campers are distributed in Canada by Morrissey Industries Ltd. Four Wheel Campers has specialized in the manufacturing of an all Welded Aluminum Frame, pop-up style camper for over 40 years. Each unit is built from the ground up by skilled craftsman utilizing only the finest materials. Four Wheel Campers is able to provide the discriminating outdoorsman with the highest quality, lightest weight, and most durable pop-up camper available today.
FREESPIRIT RECREATION
At Freespirit Recreation, our goal has always been to reinvent the rooftop tent from the ground up, creating industry-leading designs that Elevate Your Adventure. Look for us in the CapIt Booth
FRONT RUNNER OUTFITTERS
With the gruelling African bush as a testing ground, we at Front Runner focused on a tough love approach to developing products. With both feet facing the future and little sentimentally for mediocre ideas of the past – common approaches to off-road vehicle product design were quickly jettisoned in favor of innovation, new materials, and superior manufacturing practices. Our roof racks, water tanks, tents, awnings, drawer systems and camping accessories are enjoyed, used and abused around the world by casual campers, the U.N., overlanders, NGOs, outdoor enthusiasts and extreme athletes. Find us at the Cap-It booth.
GCI OUTDOORS
Every GCI Outdoor™ product is created to fit the way you live. You're not afraid to conquer the mountains – and you want to enjoy the view when you get to the top. We design the highest quality and innovative functionality into all of our products to help you do just that. Find us at the Cap-It booth.
GEAR4OVERLAND
Gear4Overland is an outfitter of durable and quality overland gear based in Edmonton, Alberta. We are passionate about getting outdoors and helping others along the way.
GOOSE GEAR
We have taken the knowledge acquired over three generations and applied it to crafting cabinets specifically designed for off-road trucks, SUVs and campers of all kinds. Made on state-of-the-art CNC machinery, Goose Gear cabinets are capable of meeting the needs of the most exacting of local or world-traveling, off-road adventurists. Goose Gear made in California. Find us at the Cap-It booth.
GRIZZLY OVERLAND OUTFITTERS LTD
Grizzly Overland 4WD Accessories & Outdoor Gear are a keen Overland Family of three and a dog, exploring BC and beyond in our 1989 Landrover 127. In outfitting our truck to be suitable for ourselves, and young child we discovered the Bush Company Alpha Roof Top Tent, and 270 XT Awning. We were so impressed with the design, quality, and effectiveness against the "Wet " Coast weather that we became the Canadian Distributors.
IKAMPER (BIG TENT OUTDOOR EQUIPMENT LTD)
iKamper helps you get out there quickly, easily, and comfortably. So, go. Go where you never thought you could sleep before. Reconnect to yourself and reconnect to the planet. Soak up all that nature-y goodness.
KITT EQUIPMENT
Carrying the largest selection of trailers in British Columbia, Kitt equipment is proud to provide customers with top-quality trailers and exceptional, caring customer service. Our family-run company meets the needs of each customer while working alongside the biggest brands in the trailer industry. In fact we have grown to become today the number-one volume trailer dealership in British Columbia.
MORRISSEY INDUSTRIES LTD.
Four Wheel Campers are distributed in Canada by Morrissey Industries Ltd. Four Wheel Campers has specialized in the manufacturing of an all Welded Aluminum Frame, pop-up style camper for over 40 years. Each unit is built from the ground up by skilled craftsman utilizing only the finest materials. Four Wheel Campers is able to provide the discriminating outdoorsman with the highest quality, lightest weight, and most durable pop-up camper available today.
NORTH SHORE OFFROAD
North Shore Off-Road Centre is Canada's largest seller of Truck and Jeep accessories. We opened our doors in 1984 and continue to grow each year. We pride ourselves on having the best customer service and largest 4×4 parts selection in the industry.
NORWELD AUSTRALIA
Norweld Aluminium Ute Trays & Ute Canopies. Australian Made and Manufactured for over 50 years..
OFF GRID TRAILERS
Off Grid Trailers™ redefines camping with innovative off-road overland trailers designed to connect you with nature, inviting you to explore the wild with unparalleled adventure. Bringing backcountry camping into the mainstream, we build durable off-road camper trailers that can withstand any climate and any terrain.
OFF GRID TREK
Our products are designed to offer you comfort no matter where Adventure leads you.
OVERLAND EXPLORER VEHICLES (OEV)
Builders of Premium World Class Fully Composite Truck Campers / Cabins & Aluminum Trays / Flatbeds
OVERLAND GARAGE
Overland Garage was founded based on the vision to help bring the experience and expertise from Australia to the 4WD market in Canada. In 2019, we set off to multiple expeditions in various terrains, spanning some of the greatest and most remote destinations in Australia, including a solo trek reaching the geographical centre of Australia & across the 1100+ arid sand dunes of the Simpson Desert. Over 80,000km later, we are back to our home continent. Bringing back not only our vehicles but also the knowledge and experiences gained from our remote travels. We've returned to Canada with a mission: to bring the proven methods and products from our overland travels to our beloved local 4WD community in Canada.
OVERLAND OUTFITTERS
We are an overland & off-road specialized shop, offering unique installations, high quality products, friendly faces, happy dogs & great service.
OVERLAND TRAINING CANADA
Overland Training Canada is the leading provider of high quality education for the commercial, industrial and recreational sector – specializing in off highway driver or operator training.
PEOS
Our purpose is to deliver functional products that incorporate a military aesthetic to enthusiasts who share the same passion. We are a Canadian-based company that operates in British Columbia, and all of our products are researched and developed at the PEOS warehouse located in South Korea..
PLANAR DISTRIBUTION LTD
Planar Distribution Ltd. is the exclusive North American distributor of the diesel-fired autonomous heating systems PLANAR designed and assembled by the company Advers / Autoterm (Latvia)
QUIGLEY MOTOR COMPANY
Quigley leads the global supply of 4×4 conversions for full size vans and cut-aways. Quigley 4×4 vans provide you the ability to Conquer Your World.
RACK ATTACK
Your Premier Retailer of Vehicle Rack Solutions. Get More From Your Car & Your Adventures. Carry Loads Safely, Securely & In Style.
RAVEN TRUCK ACCESSORIES
Raven's tough gear will protect you, your tools and your vehicle while you're on the job site. When you're working, you need to be able to depend on your vehicle to perform as well as you do. It's our job to get you on the road so you can do what you do best!
REBELLE RALLY
The Rebelle Rally is the first women's off-road navigation rally raid in the United States. Blending the love of driving with the ultimate challenge of precise navigation, the Rebelle tests your skills over 8 days of competition. It is not a race for speed, but a unique and demanding event based on the elements of headings, hidden checkpoints, time, and distance using maps, compass, and roadbook.
ROVALUTION VEHICLE REPAIR AND RESTORATION
At Rovalution we live and breathe Land Rover. From servicing your in-warranty Range Rover to a complete restoration and build of the Defender you've had on your bedroom wall since you were a child – Rovalution is the place to be for everything Land Rover.
RUX
RUX is a universal gear hauling solution, with an integrated system for outdoor gear carry and storage that is durable, versatile, sustainable, and functional..
SHUTTLERACK
ShuttleRack got its start in the summer of 2020 when bike racks were out of stock – everywhere. So – why not build our own? Our staff are mountain bikers and designers, so we set off to solve the problem for ourselves.
SMARTCAP
SmartCap is made from stainless steel, so you know it can stand up to whatever off-road or on-site abuse you give it. When you hit a branch, it won't shatter like a glass vase. SmartCap will earn its scars the same way your truck does — one rugged adventure after another. Find us at the Cap-It booth.
S.M.R.T. TENT
The SMRT tent family is inclusive to everybody from all walks and paths, no matter what direction you came from, or where you're going. We believe strongly in preserving the environment so that generations to come have the same privilege as all of us to explore, which is why we plant 100 trees for every tent we sell, and make an effort to educate on responsible outdoor use.
STOKED ADVENTURE OUTFITTERS LTD
Give your adventure rig the gear it deserves. We are passionate adventure hounds, who love to explore the great outdoors that surrounds us.
TEMBOTUSK SCOTTLES
Almost all the products we produce come out of a personal need. We manufacture robust, durable gear because we don't like to buy the same gear twice. Our gear is designed to last a life time or more and if it doesn't we will replace it. TemboTusk manufactured products are made in America using American labor and materials. The TemboTusk Skottle can be used to cook anything at home or while camping. Look for us in the AT Overland Booth.
THE ROAD CHOSE ME
Books and gear related to Dan Grec's epic overland journeys, and check out his crazy new vehicle.
TREADHEAD GARAGE LTD
Family owned and operated business servicing the 4×4 and Overlanding community in northern Alberta since 2013. Dedicated to offering the best products in the industry as well as honest service and advice regardless of make or model. We are just as happy getting you back on the road as we are outfitting you and your rig for your next big adventures.
VIVID LUMEN INDUSTRIES
We are a group of lighting enthusiasts with a passion for lighting that started 10 years ago. We know what it's like working long hours, driving dangerous highways and we realized that stock headlights just don't cut it anymore.
WARN INDUSTRIES
We're the industry leader for a reason. Since 1948 Warn Industries has built its reputation on manufacturing the very best winches, bumpers, and accessories that are designed, engineered and tested for reliability, durability and, of course, for the love of off-roading. When you go prepared, you get to keep going.
WEST COAST OFF-ROADERS
We are 4×4 Fanatics, specialising in providing you with high quality after market parts and accessories to equip you with all of your on/ off road and overlanding needs.
WEST COAST OVERLAND RENTALS
Don't have a 4WD or traveling to Vancouver without your own rig? The folks at West Coast Overlanders are offering a fully built Jeep Rubicon for your adventure needs.
WHEEL-1
Established in 1969, The Wheel Group (TWG) is a manufacturer and distributor with over 45 years of experience specializing in aftermarket automotive wheels, bumpers and accessories. TWG's product lines include alloy wheels of all finishes with a large variety of sizes to cover all consumer demands. TWG also provides a wide variety of trailer wheels, truck wheels, and OE wheels to provide the largest selection of products to fit the needs of every customer.
WHEEL PROS
The wheel industry's leader, from the racetrack to the dirt, since 1996. Headquartered in Denver, Colorado, Wheel Pros is a leading designer, marketer, and distributor of branded aftermarket wheels.
VANCITY ADVENTURE
Vancity Adventure takes you along on our exciting journeys. From discovering hidden treasures like picturesque waters in Punta Cana and ancient ruins in Mexico to sharing stories about local culture, Vancity Adventure provides an authentic experience for our viewers.
ZARGES
ZARGES has the right product for every need and also offers customised solutions regardless of whether these are for the service, trading, skilled trades, or business sectors, or for private applications. Find us at the Cap-It booth.
Which vendors have attended past BCORs?